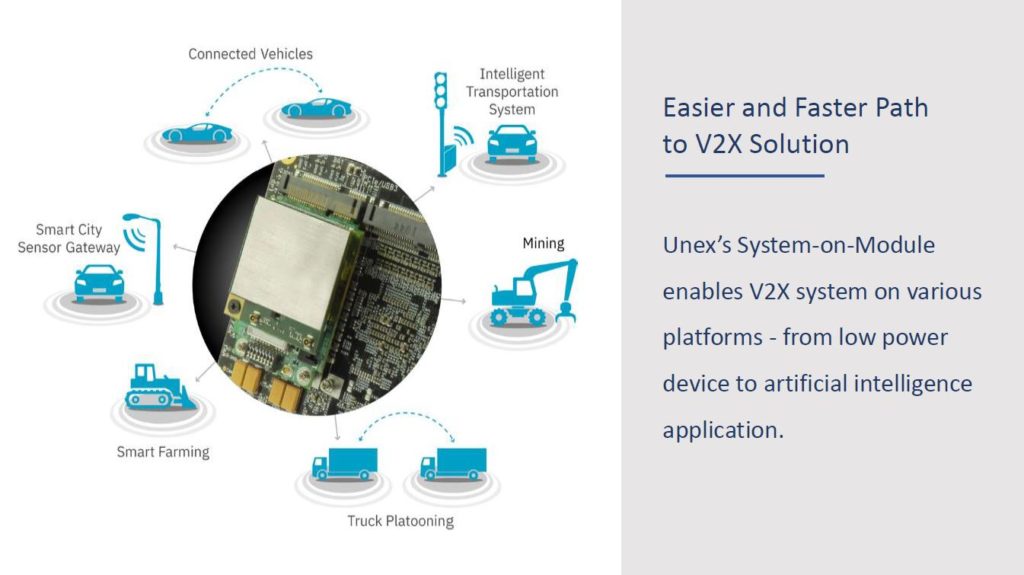 V2X (Vehicle to Everything) is a new technology that leverages industrial single board computers to modernize transportation systems. V2X includes communication between vehicles (V2V), Vehicle to Infrastructure (V2I), Vehicle to Pedestrian (V2P) and Vehicle to Networks (V2N). With autonomous driving becoming a reality, the applications for this technology are endless. 
Unex has released a V2X radio that is available with either a ITS-G5 (Europe) or DSRC (US) software stack to allow for quick integration and implementation. This V2Xcast software which runs on the SOM-301 support IEEE1609.3, 1609.4, ETSI, BTP & GN, IEEE & ETSI Security, SCMS & CCMS Protocols and POTI. To even further accelerate the customers time-to-market, Unex additionally provides a V2Xcast SDK which runs on the Gateworks SBC to provides a ready to use J2735/ITS-MSG facility layer. 
Using a Gateworks Industrial Single Board Computer with a Unex V2X Radio, a complete V2X solution can be created quickly for the fastest time to market!
V2X Solution Highlights:
V2X Benefits

Improved Safety
Optimized Traffic Flow
Optimized Parking

Unex Low Latency V2X Radio
V2Xcast SDK
Gateworks Industrial Single Board Computer