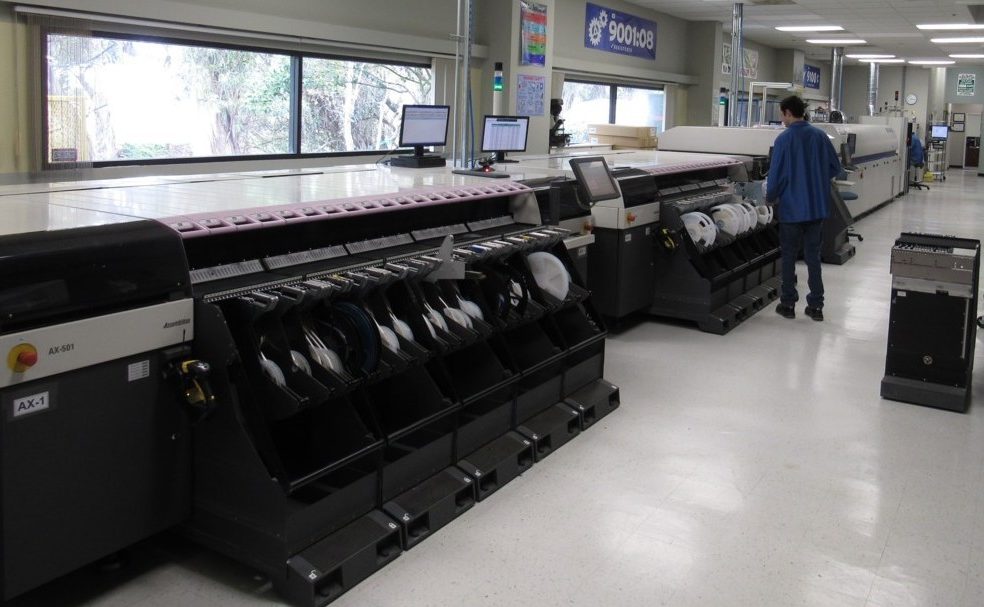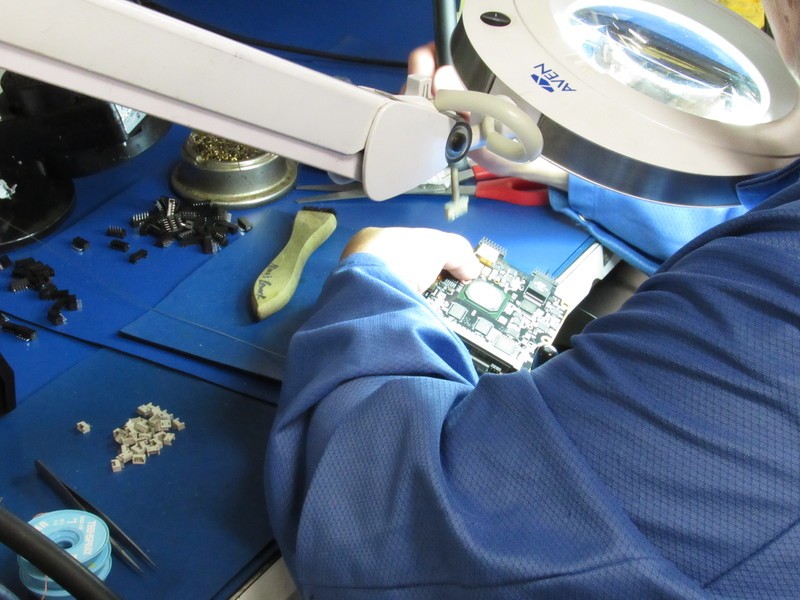 Gateworks manufactures all of its printed circuit board assemblies (PCBAs) in a 6,200 sq ft state-of-the-art facility adjacent to the corporate office. Using highly-automated machines and specialized control software capable of placing 18 million components a month, the manufacturing capability is 38,000 PCBAs per month. A secondary benefit of having the manufacturing capability on-site is that special configurations of a product, custom designs, and small prototype builds can be done much quicker than when sent to an offshore facility or contract-manufacturer.
The assembly facility is environmentally friendly using an Aqueous Technologies closed loop wash system and 100% RoHS lead free solder. Each step of the production process, including final functional testing, is captured and monitored in a proprietary process management and ERP system.
Additional Highlights of Gateworks Manufacturing Processes:
Automated laser stencil printing ensures high quality and accurate solder paste printing to eliminate and reduce component soldering defects.

High speed SMT component placement with broad component flexibility.

Large BGA and fine pitch micro BGA placement as well as 0402 chips and odd form components placements.

Multi-zone reflow process provides high-quality, high-reliability, solid solder joints.

Selective solder with accurate and repeatable thru-hole soldering to assure high quality and reliability.

Cleaning system that ensures  product is free from flux residue and contaminants.

Computer control of the entire manufacturing process. Paperless system allows for accurate and up to date product documentation to be available online at each step of the process.
Gateworks builds to IPC-A-610 Class 2 standards. IPC-certified technicians receive recurrent training to keep their skills current.

Non-automated processes are paused every 40 minutes for mandatory QA inspections.

Automated optical inspection (AOI) and image recording.

Full functional testing with logging of the results.

Manufacturing equipment communicates with the ERP system to provide real-time process metrics.

All equipment is inspected regularly and receives preventative maintenance to reduce downtime and defects.
Gateworks continues to invest in personnel, equipment, training, and processes to ensure today's capacity is ready for tomorrow's demand.
ERP System is Key to Gateworks Operations
Our proprietary process management and ERP system is the backbone of operations at Gateworks. It provides for the seamless interaction between Sales, Engineering, Supply Chain, and Production. The system greatly reduces the time to take a product from initial design to prototype and into final production.It also enforces the quality process and captures key metrics for continual process improvement.
Key Features of the System:
Product development originates with documents and follows an approval process, all of which are recorded in the system: product requirements, schematics, layouts, bills-of-materials, and assembly drawings. The associated manufacturing process documents are also constructed and maintained in the system, from the originating documents, to ensure the accurate and consistent assembly of products over time.

The entire supply chain process is managed in the system, from product demand, to inventory levels, material requisition, receiving components, and placement on product. Every component has a barcode associated with it allowing traceability back to the point of origin  and supplier.

End products produced at Gateworks are uniquely identified with a barcode serial number totrack the product through the manufacturing process, from SMT placement to final packaging and shipping. Relevant information from every step in the process is captured, including test configurations, programmed flash images, test results and timestamps. The system does not allow a product to be shipped until every process is complete and approved.

If a product is returned for repair, its original manufacturing history is available to aid with troubleshooting; any repair work and subsequent testing is captured and added to the product history.
Design and Manufacturing: A Close Collaboration
A key differentiator of Gateworks products is that they are designed and manufactured together at the corporate headquarters in California. Creating everything at one location allows for close collaboration and communication between design, manufacturing, and support team members. Board designers receive feedback from support and manufacturing during new product design reviews allowing constant improvement of quality and manufacturability. Manufacturing engineers benefit from the ability to sit with a designer to discuss testing procedures and potential high risk areas before a design is released.