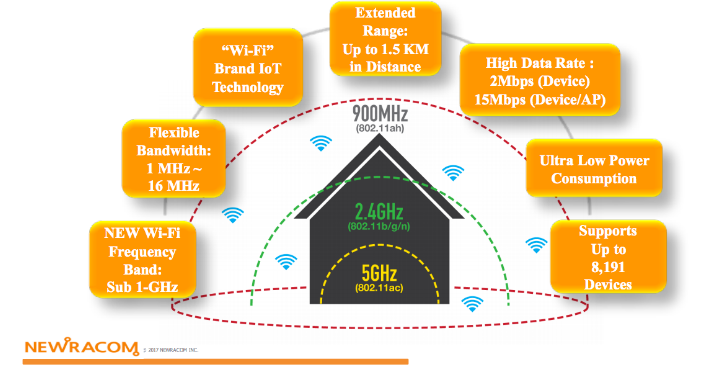 Gateworks has announced the release of the GW16146 802.11ah HaLow Wireless Mini-PCIe radio intended for Internet of Things (IoT) applications. The GW16146 802.11ah radio uses the Gateworks Industrial Single Board Computers as a platform. The SBCs feature ARM processors that run a Linux operating system. The combination of the 802.11ah radio with the industrial SBC creates an Internet of Things (IoT) Gateway solution that is optimal for easy to use, low power and long range wireless communication.
Gateworks 802.11ah HaLow Mini-PCIe Radio
Gateworks has designed and manufacutred the GW16146 802.11ah HaLow Mini-PCIe Radio. This radio plugs into the Mini-PCIe slots offered on the Venice and Newport single board computers. The radio communicates to the processor over the USB channel. Gateworks has provided all of the drivers and software to support a standard TCP/IP network. The advantage is there is no special code / software to be written. The radio acts like a standard network interface in Linux.
What is 802.11ah HaLow?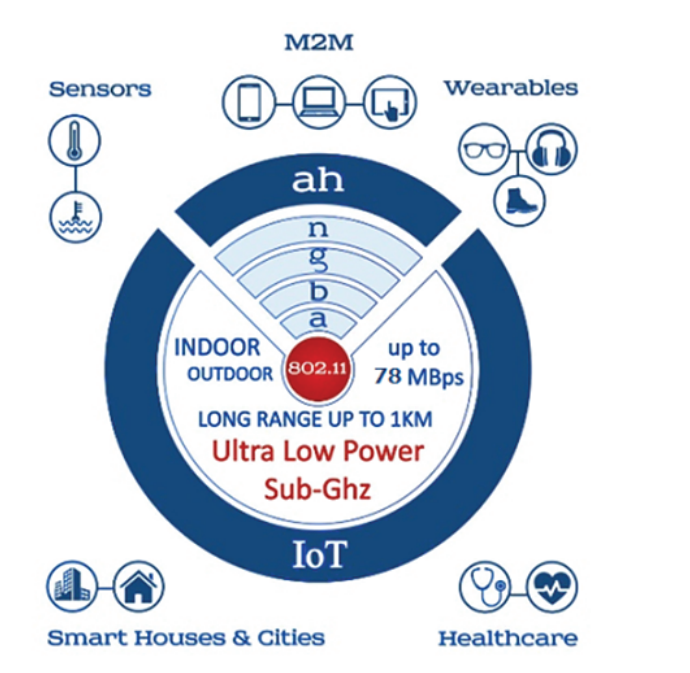 802.11ah HaLow is a wireless networking standard that uses the 900 MHz unlicensed frequency bands. This allows for for longer range than standard 802.11 WiFi, which can be crucial in some sensor IoT applications. Additionally, 802.11ah features lower power consumption, likening it more to Bluetooth BLE than standard high power WiFi which is needed for pushing large amounts of data. The 802.11ah has a throughput of up to several megabits, which makes it ideal for IoT applications that are passing sensor data, telemetry and smaller requirements. 802.11ah is an open standard and does not require the joining of a consortium.
Typical use cases are:
Outdoor long range IoT
Agriculture communication
Indoor warehouse sensor communication
Industrial automation
Logistics and transportation
802.11ah HaLow vs The Competition
802.11ah is a new player to the Sub 1-GHz sector. There are many others, such as LoRa, Sigfox, NB-IoT, Bluetooth, Wi-SUN, Z-Wave and Zigbee. 802.11ah differs in several ways, but many of the advantages are tied to the following areas: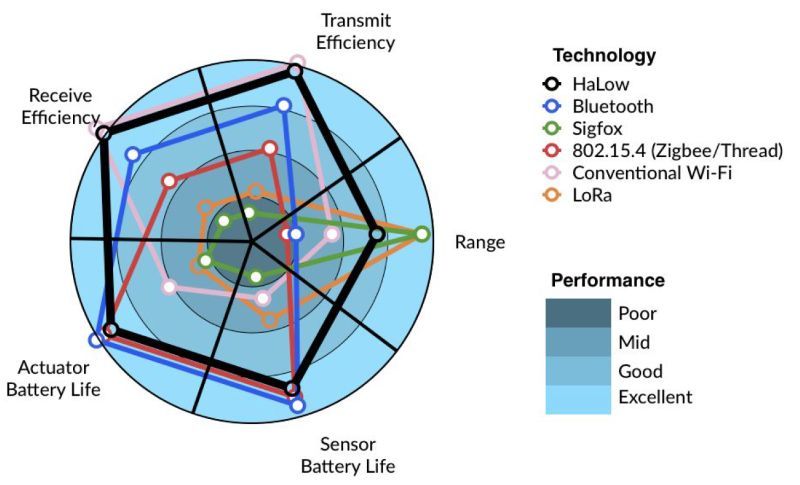 Long Range when extending a local network, up to 1km
Better Data Rates
Support of standard TCP/IP Framework
Unlicensed frequency
Open standard IEEE
Scalability allowing the support of over 1000's of nodes (8,191 total per SSID)
Enhanced WPA-3 Security
Low power battery performance for frequent transmissions
Low Latency
802.11ah HaLow has a strong blend of features in the Sub 1-GHz realm.
802.11ah HaLow Gateway for IoT
By utilizing the GW16146 802.11ah Mini-PCIe radio, any Gateworks Single Board Computer (SBC) can be turned into a 802.11ah IoT Gateway. Gateworks SBCs feature Mini-PCIe slots that allow for different radios, such as 802.11ah, 802.15.4, BLE, Cellular, and 802.11a/b/g/n/ac WiFi radios. Larger SBCs, such as the Venice GW7300, offers 3 Mini-PCIe slots where a combination of radios can be used for different functionality, such as cellular for WAN, 802.11ah for sensors, and BLE for other sensors. Gateworks SBCs offer open source Linux software that allows full customization and control. Custom and configurable software applications can be written for the gateway to read sensors over sockets and then push the data to the cloud through a cellular connection.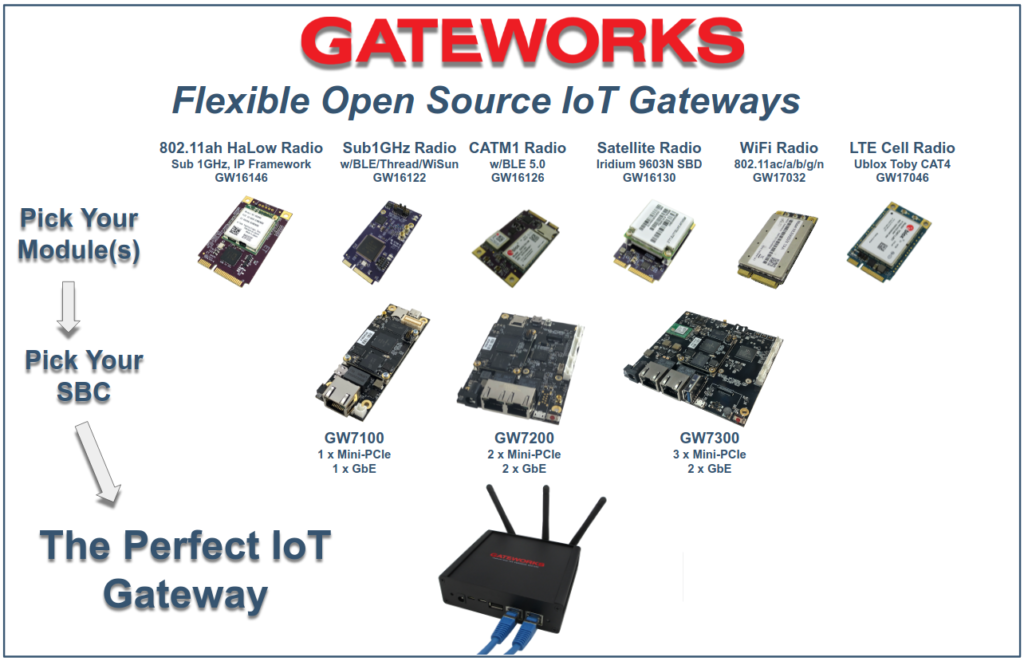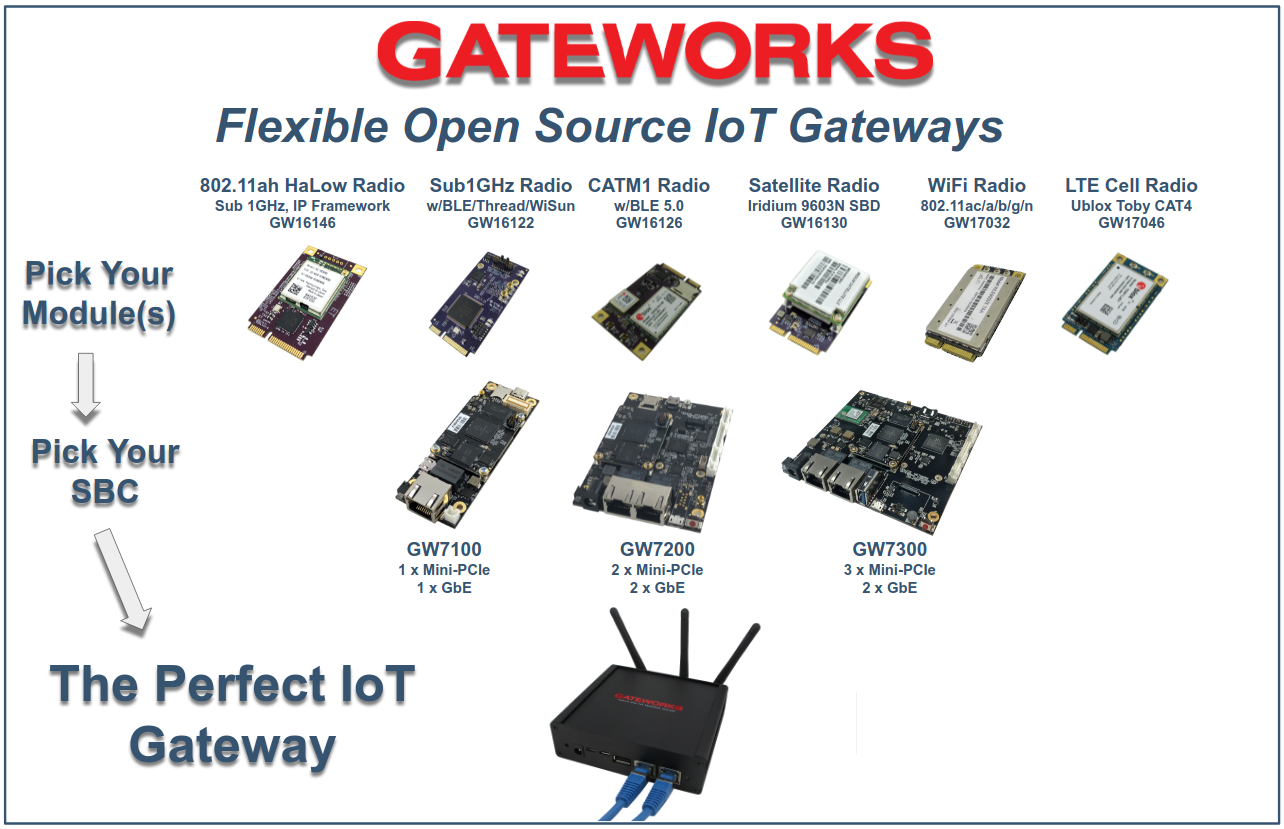 Gateworks 802.11ah HaLow Software Wiki
Gateworks uses a wiki platform for documenting software functionality on the industrial SBCs it manufactures.
The Gateworks 802.11ah HaLow wiki page documents how to use the GW16146 802.11ah HaLow Mini-PCIe card on the Gateworks SBCs. The wiki also provides several examples using a driver application to configure different aspects of the radio.
---
Resources
Full coverage of this showcase with detailed programming instructions can be found on the Gateworks GW16146 802.11ah HaLow Wiki Page.
A video demonstrating the high client count can be found here.
Gateworks Corporation designs and manufactures ARM based single board computers and cellular modem cards in the USA. Several industrial SBC families have varying sizes from 35x70mm up to 140x100mm with Mini-PCIe and M.2 slots specific for SDR usage. The SBCs feature multiple ethernet (including dual Gigabit) ports as well as multiple Mini-PCIe slots for WiFi and Cellular radios. Each single board computer is designed with an optimized and highly efficient power supply that accepts 10-60VDC. To further view the entire line of Gateworks SBCs, please visit the Gateworks Industrial Single Board Computer product page.