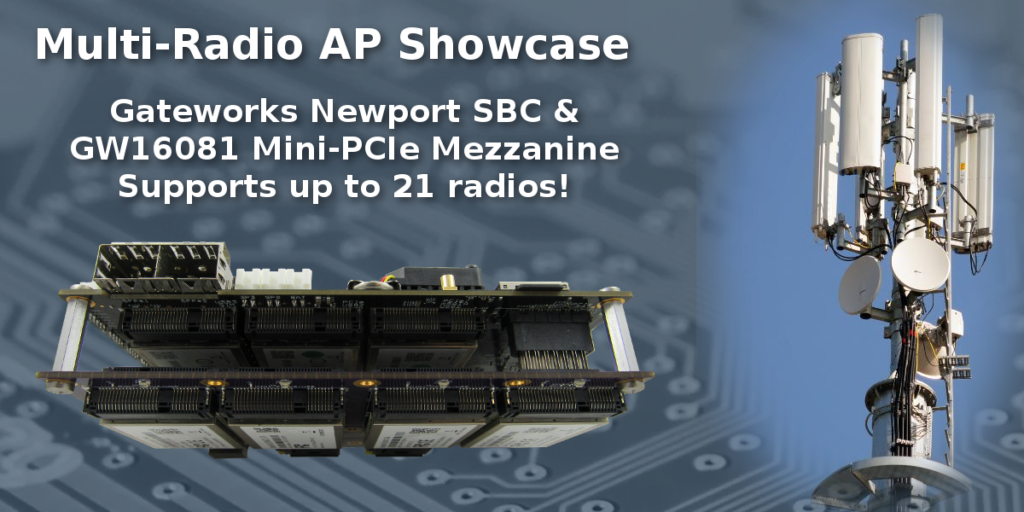 WiFi has become an essential component to the communications infrastructure and there are many applications that can take advantage of high radio count access points. Below is a brief list of these applications:
Provide dedicated private and open public networks on different frequency bands.
Support 2.4G, 4.9G (public safety), 5.8G and other bands simultaneously.
Utilize multiple radios with sectored antennas (ie. 45 degree antenna x 8 radios) to increase both transmit and receive ranges. Note that using a high power radio only increases the transmit range so this does not provide any benefit when talking to standard clients (ie. cellphones, tablets, etc.). A high gain antenna amplifies both when transmitting and receiving.
WiFi monitor/sniffer applications covering multiple channels/frequencies simultaneously.
Mesh networks with dedicated front & back hauls for increased performance.
Full featured APs with a combination of WiFi, cellular, satellite and other wireless technologies.
The Newport GW640x and GW630x boards are ideal SBCs for implementing multi-radio access points since the Octeon TX SoC has a highly optimized ARMv8 core that can process >11M packets per second and it additionally supports a large pool of PCI memory address space allowing it to support a large number of PCIe devices.
The GW63xx and GW64xx boards both support up to 3x Mini-PCIe based radios by themselves however Gateworks has allowed for the bottom right Mini-PCIe slot to be replaced with a PCIe Expansion connector allowing the board to be stacked with the GW16081 Mini-PCIe Expansion Mezzanine. With this configuration the board can be setup to support 21x Mini-PCIe based radios!
To learn more about this setup with instructions, follow the Learn More button below.