Case Study: Rugged Wireless Client for Maritime Shipping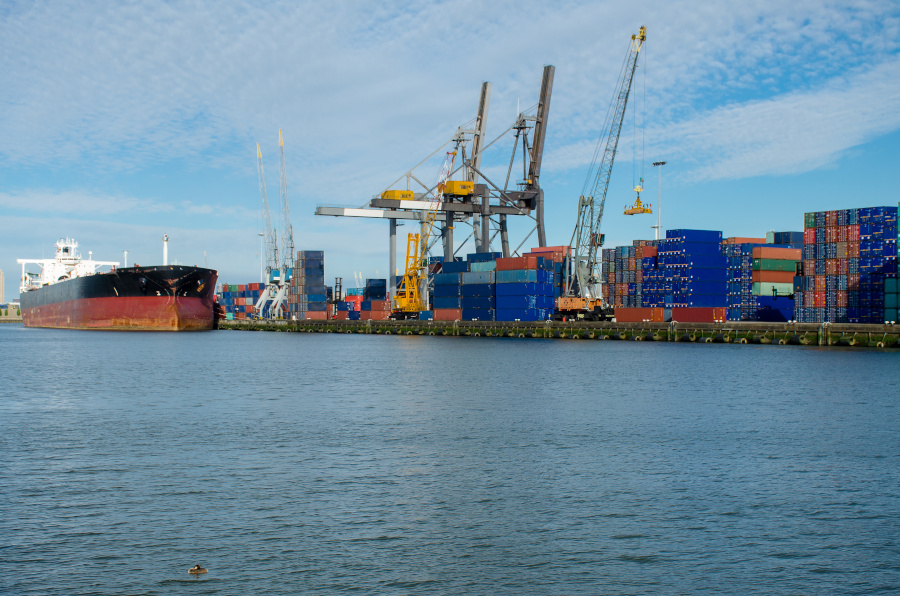 Industrial Single Board Computers (SBCs) are enabling network connectivity in rugged industries throughout the world. Smart-Tecs provides gate systems and terminal automation solutions for the maritime shipping industry. Loading and unloading shipping containers at different ports around the world requires large amounts of organization and automation to be efficient. Optical character recognition (OCR) is used to detect and identify shipping containers, license plates and equipment. The quick identification of these assets allows for a higher automation throughput during transport and better security.
OCR Benefits:
OCR used at entrance gates can provide security on who is let through.
At the exit gate, OCR can record and process what containers left the terminal.
When cranes are viewing containers on a ship, the OCR allows the crane to select the correct container and provides exact instructions of where the container should be moved to.
RFID can also be used in conjunction for many of the same purposes. These large automation systems process, store and transfer large amounts of data back to central servers and the cloud. This movement of data requires a strong and reliable network connection for each piece of equipment involved.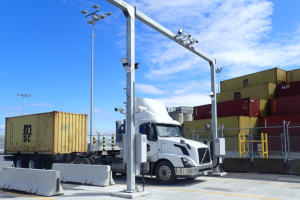 In the marine logistics sector, there are many pieces of heavy equipment and vehicles moving around. To make the flow of containers more efficient, smart systems have been implemented. In order for all these systems to work successfully, a network connection needs to be provided to all pieces. Because the equipment is always on the move, a roaming wireless solution is required with strong antennas. Antennas cannot be tall to avoid being ripped off during movement. The data from the wireless radio must be then passed to pieces that only operate over ethernet.
Smart-Tecs customers had been using a system that was going end-of-life. This system needed to be replaced by a more flexible and higher performance wireless client.
Smart-Tecs knew they were building a wireless bridge for a rugged environment. The following items were crucial in making a decision in which platform to choose:
Industrial Temperature: This environment demanded industrial temperature ratings from -40 to +85C.
Made in USA: Because they deal with a lot of governmental agencies, it was crucial to have a product that was manufactured in the USA. This ensures quality and a lower security risk for sensitive cargo.
Flexible Software: The previous solution utilized a procured piece of equipment that didn't allow for hardly any customization or alternative options. They were looking for something that offered open source software that they could control, adjust and improve as they needed. Utilizing a proven known OS like OpenWrt was crucial to avoid costly engineering time by starting from the ground up.
Flexible Wireless Interface: Trying to find a single board computer that offered a flexible wireless solution was very important. Finding a flexible interface like a Mini-PCIe slot allows for a wide variety of wireless radios and the option to upgrade at a different date. Additionally, a Mini-PCIe slot is able to accept a cellular radio for applications outside of the range of the wireless access points (APs) in the shipping yard.
Long Life Availability: Selecting a platform that is available for many years was important for many reasons. Valuable engineering time wouldn't be wasted in having to switch to a new platform again once the old one is discontinued. Any certifications would not have to be reacquired due to switching platforms. Replacements are readily available when needed.
Excellent Technical Support: When designing their own solution, it was crucial to have a company who was able to quickly answer questions to ensure the fastest time to market.
Smart-Tecs was able to build and create a high performance rugged and industrial wireless client for their customers' roving equipment.
Hardware
They selected a rugged and industrial single board computer from Gateworks, the GW5913. This model is very small at only 35x100mm. Smart-Tecs decided to upgrade the base 800MHz Dual Core processor to a 1GHz Quad Core processor for faster wireless performance in addition to adding the option for the onboard GPS receiver. The board also features a Gigabit Ethernet port that accepts an active 802.3af PoE input which is supplied from the equipment's main switch. The Gateworks System Controller (GSC) provides crucial system health information such as system voltages and temperature along with a real time clock. A single Mini-PCIe slot allowed for their choice of wireless WiFi radio, which was a GW17032 WLE900VX 802.11AC 3x3 MIMO radio. This radio supports both the 2.4 GHz and 5 GHz bands and connects to 3 low profile antennas. The antennas are mounted on top of a rugged enclosure that is IP66 rated to keep everything dry even during torrential downpours at the terminal. This enclosure utilizes a magnetic base that can attach to the roof of a vehicle, top pick, strad or top of a crane. All of the hardware is rated for industrial temperatures from -40C in frigid marine environments to 85C in the hot desert sun.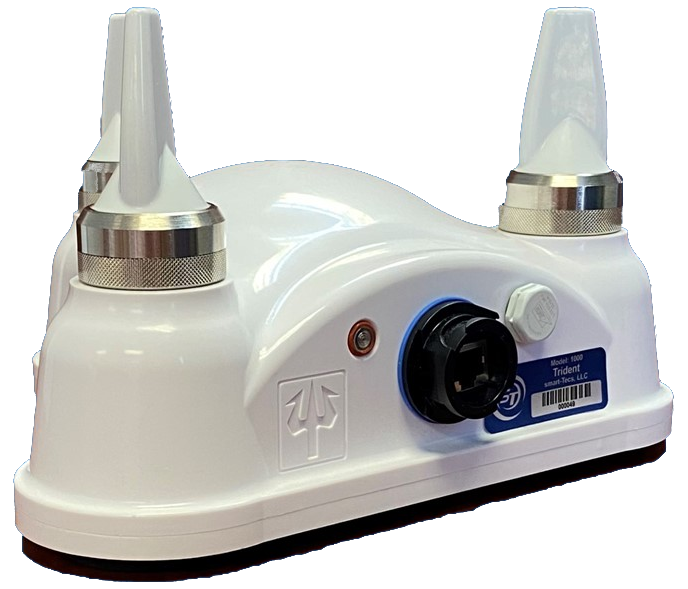 "Through our development and qualification process, Gateworks became our company of choice with their proven rugged industrial quality single board computers that are made in the USA. Their SBC is a flexible platform that allowed us to build our own customized wireless client that improved our customer's equipment operational uptime."
- Lawrence Chan
Smart-Tecs President & General Manager
Software
The base operating system is a distribution of Linux called OpenWrt. OpenWrt is designed for networking applications where fast packet transmission is crucial. OpenWrt offers an intuitive graphical user interface (GUI) that allows customization and additional features for configuration and reporting. Because OpenWrt has such a strong networking focus, Smart-Tecs was able to add to the networking layer to allow for client side roaming.  Traditional roaming requires a controller that kicks off clients when their signal is bad. Client side roaming will constantly monitor the strength of the wireless signal and as the signal strength gets low, the unit will start searching for a new access point with a stronger signal and then seamlessly switch over. Smart-Tecs allows the administrator to adjust low signal threshold.
Another feature Smart-Tecs added was multicast routing. Some customers use systems where the units need to accept multicast packets and then re-route these to other devices.
The onboard GPS is being used to allow for asset tracking. Each vehicle in the yard can be located from a central server. This helps in mitigating traffic concerns as well as misplaced assets.
The open source Linux platform will continue to provide flexibility for new features that can be added in the years to come. Whether is be cloud control or advanced wireless features, anything can be added or upgraded as needed.
Results: A Flexible High Performance Wireless Client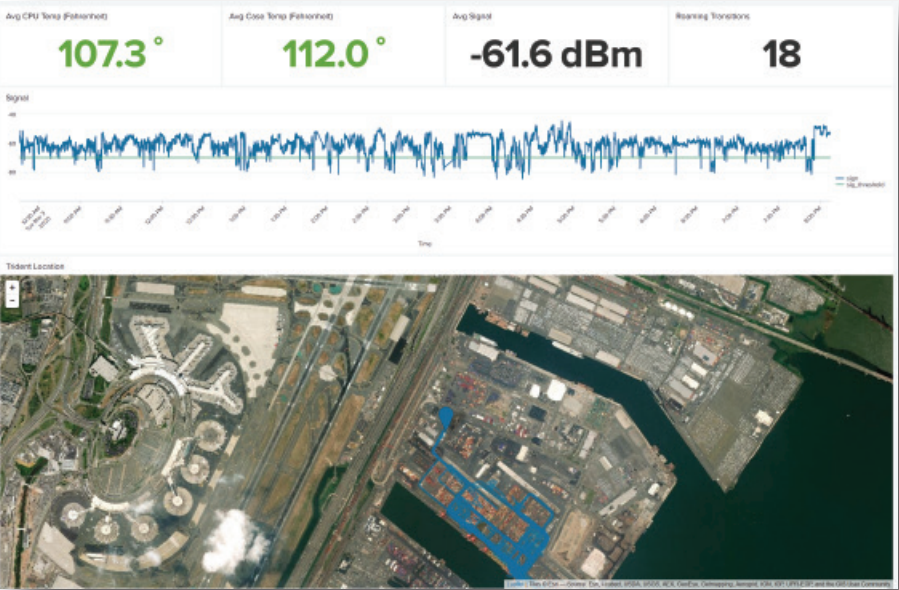 Smart-Tecs was limited with the previous generation product that was being used. The performance of the hardware along with the proprietary software really hindered the vehicles operating at their full potential in the container terminal environment. The new solution provides a much stronger processor to provide higher performance. Being able to modify, upgrade, and add features to the software provides a wide open platform with no limits. Different antennas can be used if needed depending on the RF characteristics of the site being used. Logging is able to provide crucial statistics about client health such as temperature, uptime, location, access point connections, all allowing for analysis for optimization and preventative maintenance. Anytime a network connection is lost on a vehicle or piece of equipment, dollars are lost every minute until that asset is brought back online. The Smart-Tecs solution greatly reduces these outages due to their careful monitoring and robust design. Ultimately the new solution provides a higher performance, more flexible hardware and software platform to enhance and enable the entire Smart-Tecs automation solution for the maritime shipping terminals throughout the world. Over 2 million twenty foot equivalent units (TEU) are able to be pushed due to the efficiency from the Smart-Tecs solution.
For more information about Smart-Tecs, please visit their website at http://www.smart-tecs.com/
Below is a list of equipment used in this solution:
Custom IP66 Enclosure
Pulse Larsen Antennas