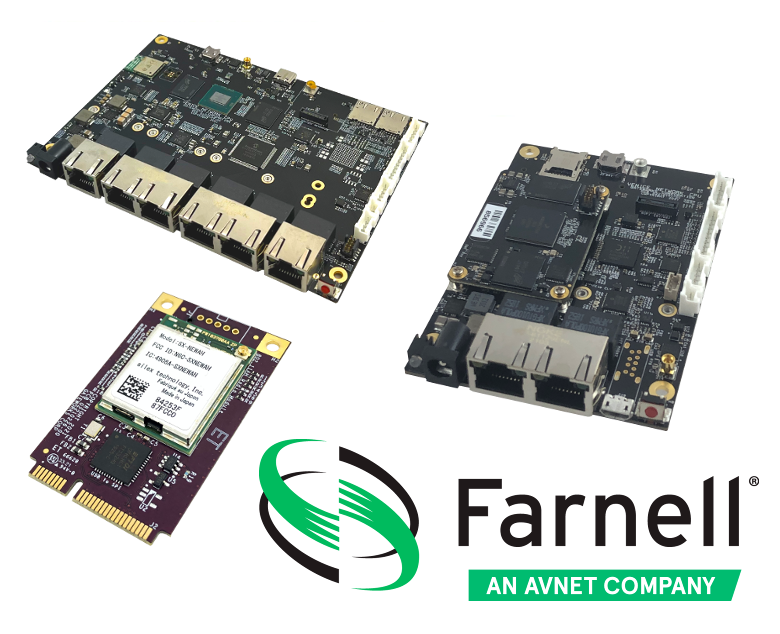 Farnell has reached a new distribution agreement with Gateworks to stock rugged, industrial specification single board computers. Gateworks' single board computer (SBC) products benefit users by significantly contributing to a low system failure rate in the field. The devices are in stock and available to buy now from Farnell.
The Gateworks family of SBCs is an important addition to Farnell's portfolio as Gateworks products are ideal for use in rugged conditions. Designed from the ground up with components that can withstand shock, vibration, electrostatic discharge and transient voltages in harsh and high temperature environments, Gateworks ensures delivery of high reliability devices.
IoT engineers use Gateworks SBC with user-selectable wireless radio to create swift and easy custom Internet of Things (IoT) or Edge Gateway.
The products provide useful system diagnostic capabilities such as critical voltage rail and board temperature monitoring circuitry. Another benefit is an external watchdog timer that can hard power cycle the board in the event that its application software becomes unresponsive.
Farnell is focusing the Venice Family of Single Board conmputers, which include a 64-bit ARM CPU, Mini-PCIe slots, multiple Ethernet and an industrial temperature rating from -40 to +85C⁰. Multiple Mini-PCIe slots offer extreme flexibility and allow for a wide variety of wireless options, including WiFi6 / 6E, Sub-1GHz 802.11AH HaLow, 5G cellular, BLE Bluetooth, Iridium Satellite and 802.11 (A/B/G/N/AC/AX).
Farnell will also carry many accessories and adapter boards to make system integration easier, such as the GW16141 Mini-PCIe to M.2 adapter for cellular modems as well as the GW16146 802.11AH Ha-Low Mini-PCIe radio.
Romain Soreau, Head of Single Board Computing at Farnell said, "Our new partnership with Gateworks enables us to offer a large selection of standard product models to meet the needs of Farnell customers' most common applications for the growing industrial market. The Specials Program and Customs Program offered by them provide key flexibility and cost-optimized solutions to our customers."
Gateworks range of rugged SBCs are available from stock at Farnell in EMEA, Newark in North America and element14 in APAC.
View the official Farnell Press Release.